Ask the Computer Engineer Now
Eng. Othman Matar
Computer Engineer
Answered 19527 | Rating 98.1%
Customer Reply
My Personal account disabled
Expert's Answer: Eng. Othman Matar
Eng. Othman Matar
Computer Engineer
Answered 19527 | Rating 98.1%
Dear customer
Thank you for joining and trusting us
Dear, if facebook account was disabled you must follow the following steps:
1. At first you need to enter the link by
click here
2. Fill out the form as shown in the picture.
3 - You must attach your identity or any official card to you by clicking the choose files
4 - Click on send after completion of filling out the form and then wait until a message is sent to you by Facebook on the email with sufficient information to restore your account disabled.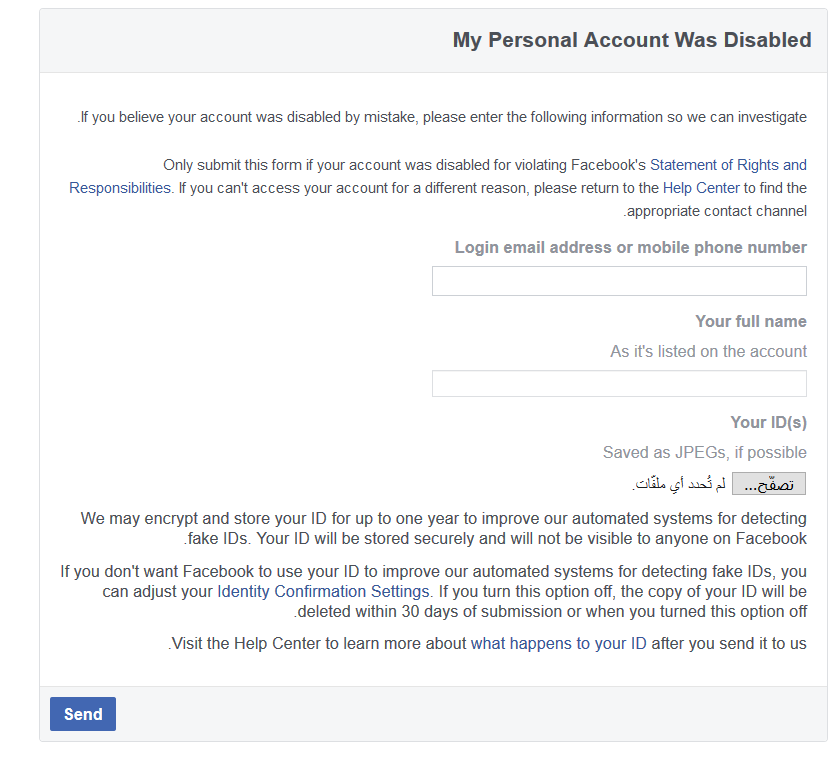 if you mean something else let us know.
I hope that the answer to your inquiry is useful and clear, and please let me know if you have any other questions. Evaluating the answer from the top of the page helps us improve the quality of answers and ensure that the best experts are available to assist you.
You can also ask questions of our other specialists in the areas of nutrition, the rapists, IT specialists, medical doctors, and many more
Best Regards
Eng.Othman Matar
Ask the Computer Engineer
Eng. Othman Matar
Computer Engineer
Answered 19527 | Rating 98.1%
100% Satisfaction Guarantee
Join 8 Million Satisfied Customers